User Satisfaction Survey Template
Discover the key to delighted customers with our user satisfaction survey
Try it out
Why user satisfaction surveys are important?
User satisfaction surveys are a crucial tool for measuring and improving the customer experience. They provide valuable insights into what customers think about your product or service and what you can do to meet their expectations. Regular user satisfaction surveys can help you identify areas for improvement, increase customer loyalty and drive business growth. By listening to your customers, you can make informed decisions that positively impact the overall satisfaction of your audience and build a strong, long-lasting relationship with them.
What is a User Satisfaction Survey?
A user satisfaction survey is a tool used to gather feedback from customers on their experiences with a product or service. It helps businesses understand what their customers like and dislike, what they need and expect, and how they can improve their products or services to meet their customers' needs better. User satisfaction surveys can be conducted online, through email, by phone, or in person, and usually consist of a series of questions about the customer's experience.
What are the benefits of performing a User Satisfaction Survey?
Performing a user satisfaction survey has many benefits for businesses. Firstly, it provides valuable insights into what customers think about your product or service and what they expect from you in the future. This information can help you identify areas for improvement and make changes that positively impact the customer experience. Secondly, user satisfaction surveys can help increase customer loyalty and boost business growth by showing customers that you value their feedback and are committed to meeting their needs. Finally, user satisfaction surveys can help you measure the effectiveness of your customer service and support efforts and identify areas for improvement in your support processes.
How do I create effective User Satisfaction Survey questions?
Creating effective user satisfaction survey questions requires careful planning and consideration. When creating your questions, it's important to keep your target audience in mind and tailor your questions to their needs and preferences. Some effective survey question types include multiple choice, rating scale, and open-ended questions. You should also aim to keep your questions short and straightforward, avoiding complex language and technical terms. Additionally, you should include a mix of questions that address different aspects of the customer experience, such as satisfaction with the product or service, ease of use, and interactions with customer service. Finally, consider offering incentives, such as discounts or giveaways, to encourage customers to participate in your survey and provide honest and thoughtful feedback.
Examples of undefined questions
Here are examples of questions most commonly used in User Satisfaction Survey Template. When using our template, you can edit and adjust all the questions.
How satisfied are you with the product/ service you received?
How likely are you to recommend our product/service to your friends or colleagues?
Was the product/service meeting your expectations?
What was the reason for choosing our product/service?
How easy was it to use our product/service?
Was our customer service helpful?
How satisfied were you with the resolution of your customer service interaction?
What was the primary reason for contacting customer service?
Was there anything that you were looking for in our product/service that you were unable to find?
What could we improve about our product/service?
How does our product/service compare to others in the market?
Try this template
62% of our surveys are opened on mobile devices. Responsly forms are well optimized for phones and tablets.

Responsly get 2x more answers than other popular tools on the market.

Responsly service get an average satisfaction score of 98%
Related Customer Experience templates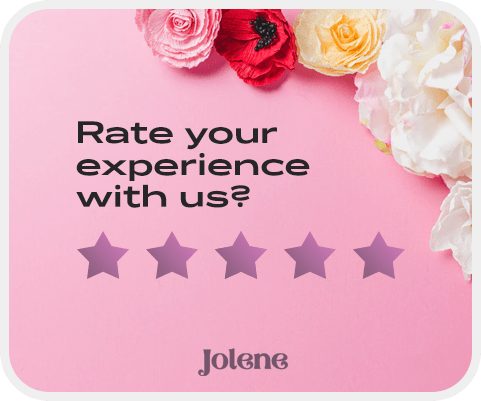 Customize template for your needs
Modify or add questions

You can modify every question, delete or add more; there are 24 types of questions with options to select.

Add your branding

Make it looks like it's your own. Add branding of your organization and modify the theme to match the graphic standards of your brand.

Connect with your apps

Easily connect Responsly to apps that you're using. Use ready integrations to move data from Responsly to your apps automatically.
100+ apps integrations
Connect tools that you are using, Responsly easily integrates with multiple apps.